Spider Gates - Leicester, Massachusetts
Location:  Spider Gates Cemetery
City:  Leicester, Massachusetts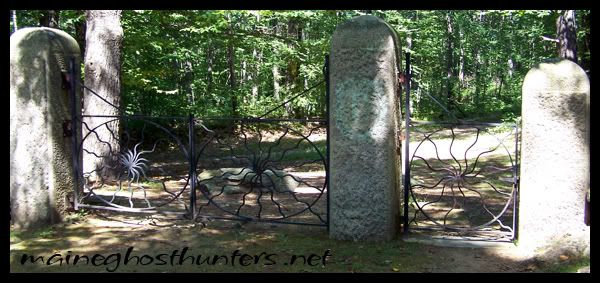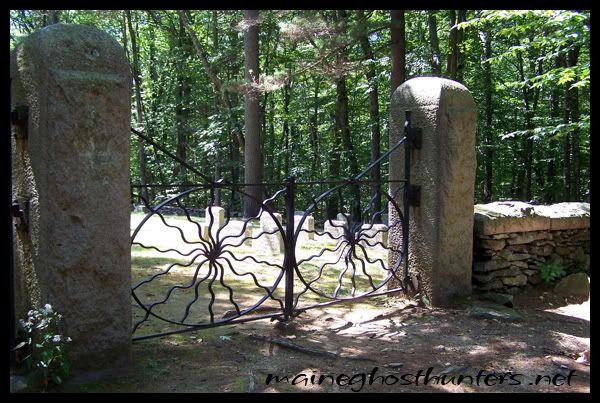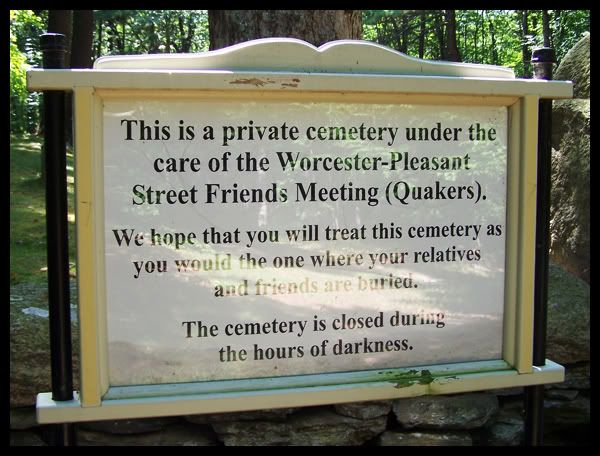 This was one of those investigations that reminds me of how awesome it is to be a member of Maine Ghost Hunters. On this particular investigation day, I have to tell ya, "I'm lovin' life".  We left Maine somewhere around 8:00 in the morning and made a leisurely commute to the great state of Massachusetts where the much-rumored-about "8th gate to hell" resides. Tucked in the back woods of a somewhat remote area, surrounded by brush, trees, and fields of farmland lay the prize; Spider Gates Cemetery.
Spider Gates Cemetery is one of those graveyards who's reputation precedes it.  It's sad, really, when I think about it, because at the root of all the stories lay the relative of someone who's ears these rumors may meet.  It's my perception that people forget that they're talking about someone's mother, father, brother, uncle, cousin, or otherwise, when they tell these stories of evil that take place within cemeteries such as Spider Gates.  I'll tell ya, when made the trip to the Friend's Meetinghouse Cemetery in Leicester, Massachusetts I was wholly preparing myself for a downright menacing experience.  I had heard of ooze emerging from the ground, apparitions of small children, a "hanging tree" which sometimes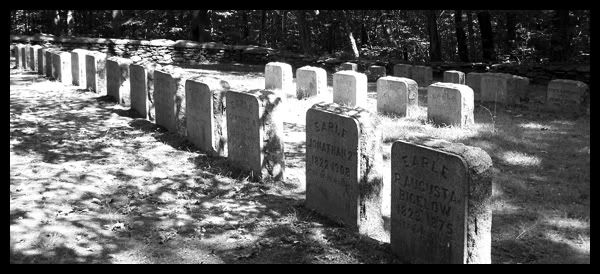 reveals the reason it bares the name, satanic rituals and cults, and the manifestations those satanic rituals produce.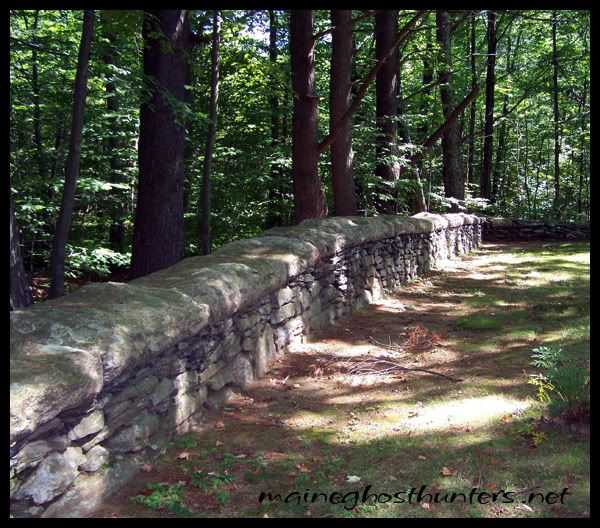 What I found when we finally arrived at the entrance to Spider Gates Cemetery was a beautiful, serene atmosphere who's grounds are impeccably neat, clean, and obviously cared for by people who are wholly vested in honoring those interred persons at rest here.  I can't tell you how wonderful the area looked and felt.  It was simply breathtaking.  It makes me want to give a scowling look of disapproval to people who pass such awful rumors about this location.   The grounds are absolutely stunning.  The stone wall that encompasses the outer perimeter of the cemetery has been neatly hand made by stacking rock upon rock, stone upon stone, and each one appears to be laid in place and held there by gravity and the weight of those stones above.  There is no cement holding this wall together.  It is meticulously maintained and rarely did we observe a stone out of place.
The headstones aren't nearly as ornate as those stones in Puritan based cemeteries I've written about in the past, but they do depict a burial period that transcends the past couple of centuries.  The rumor that this burial ground is no longer used is a flat out lie.  We observed that a person was buried here as recently as this past year, 2008.  The headstones themselves may be simple, lacking much more than simple epitaphs, names, and dates of birth and death, but their simplicity exudes a certain level of beauty that is entirely communal. It's as though the message you receive in this place is that these people lived as a community and they rest in peace, for eternity, as a community.  We have been to a few cemeteries in the past, and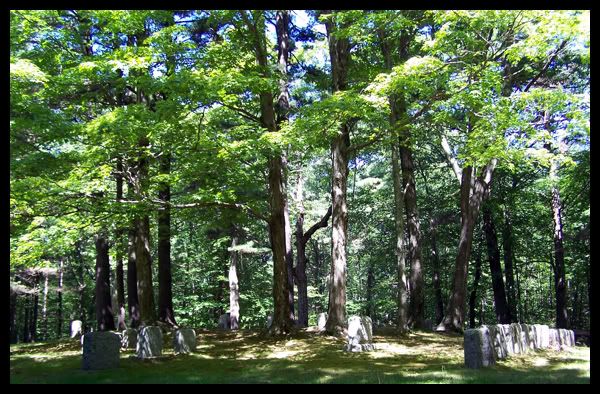 none have felt as warm and inviting as Spider Gates.
We were able to take a walk around the grounds and check out the different rumored sites of interest.  For instance, the "altar" location in the center of the cemetery.  It is said that Satanic Rituals may be performed here on a regular basis by visiting Satanists, which is why the area appears to be cordoned off in some purposeful way.  That "purposeful way" , according to rumor, is supposedly designed by the Satanists. The more historically accurate version of this "altar" area is that it's almost certainly the footprint of the original Friends Meeting House foundation.  I was overtaken with the sheer beauty of the trees that grace the center of this beautiful cemetery and was somewhat affronted by the notion that anyone could consider this place to be any level of "evil".
We ventured toward one of the back walls of the cemetery where we noticed some upright-
standing granite blocks averaging a height of roughly 3 to 4 feet tall.  TonyL thought this area could have been considered the "altar" area, or an "altar" area as well, but we were at a loss for an ultimate conclusion as for what this was more likely used for.  We took notes of "the hanging tree", and the "note" we took was that the limb used for the hanging is quite a distance off the ground.  The breadth of the tree would make it very unlikely that anyone who hung themselves from it "shimmied" their way to the limb.  Basically speaking, you'd have to really, really, want to hang yourself from this particular tree in order to get the job done, because the effort you'd have to go through to actually do it, is quite an involved process.  I'm not saying a young boy didn't hang himself from this tree, I'm just saying he had to be exceptionally tall, incredibly talented at climbing the, virtually, un-climbable – or both.  We didn't see any apparitions of ghostly children while visiting Spider Gates, but we did hear sounds that sounded like eerie children for a brief second.  Turned out to be high pitched birding vocals.  I'll admit, it took me by surprise for a brief second, but once the sounds were identified as birds, and were repeated often throughout the rest of our time on the Quaker grounds, all was fine.


yle="max-width:800px;float:left;margin-top:10px;margin-bottom:10px;margin-right:10px;" width="258″ />
The apparitions we had read about that appear in this area were basically a little girl, a little boy, and a slightly pre-teen or early teen boy.  There's an awful story, that dates a few decades back, of a 6 year old boy from a nearby boy's home that was beaten to death by one of the older teen-boy's from the home.  His body was dragged through the woods and stuffed into a culvert.  The story is heartbreaking and the location of the culvert, which we found, intensified the grisly nature of the crime, start to finish.   The culvert was so small in its initial opening that it's hard to imagine the condition the boy's body was in if he was, indeed, stuffed into this culvert as we saw it.   As TJ explained, the culvert's initial opening is small, but it "opens up" when you look farther inside.  It's a dark hole under a less-than-busy dirt road.  I'm doubting many people, if any at all, traveled this route on a regular basis.
We took notice of the beautiful Kettle Brook, at a few different points, as well as the gloomy and buggy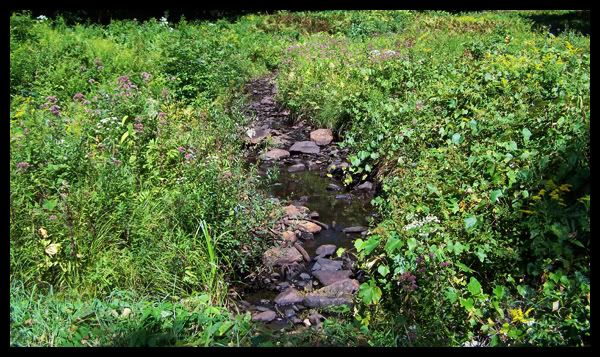 swamp areas that lay beyond the burial ground.  It's important to note that there are 2 swampy areas, only 1 of which claims the paranormal activity.  Spider Gates Cemetery, itself, is not the location much of the paranormal activity in this area is reported.  It's at the bottom of the hill near the swampy area that is a brief walk past the Spider Gates Cemetery.
Now, as for the term "the 8th gate to hell" or Spider Gates Cemetery contains "8 gates to hell", both are preposterous accusations.  The cemetery itself has only 1 official entrance and that entrance is enclosed by 3 gates, each of which contain a wrought iron decoration in the center which resemble what many have compared to "the sun's rays" or "a spider web".    It is a fact that at least one of the gates is a reproduction since the original was stolen, and it is also a fact that that 1 gate does not "equal" 8.  I have read many variations of the "8 gates", my favorite tall-tale version being the one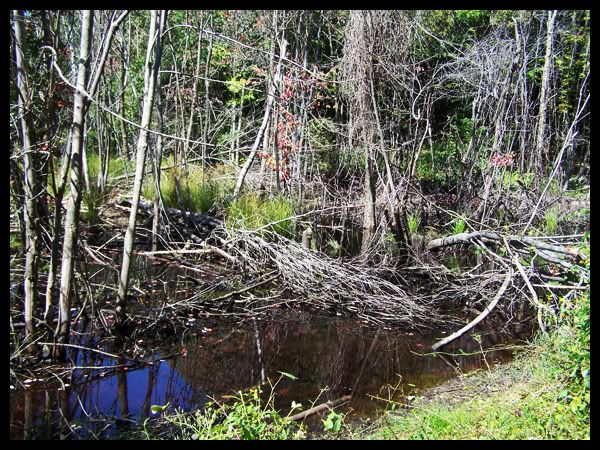 where "the close you get to the 8th, and last gate…" the more apt you are to pass out.  And that people have not only passed out when approaching the 8th gate, but there are people who have suffered heart attacks upon reaching the 8th gate, and there has also been the occasional death-upon-reaching-the-8th-gate.  The short of it is, it's all pretty insulting to the community of Quakers this place exists to serve, and to those community members buried within.  I was a little warmed by the notion that the official position of the Quakers, concerning these rumors about their cemetery, is that they find it all very humorous.
All-in-All the trip to Spider Gates was definitely a wonderful experience.  On the way out of the cemetery, as we were wrapping things up and approaching our car, 6 more people in 3 different and unrelated cars, were making their way to parking their various vehicles so they could get a good look, and personally experience Spider Gates for themselves.  We were even fortunate enough to meet people who had heard of us from our internet site.  What a treat that was!  If you're out there and you're reading this, thanks for complimenting our site!  We were tickled pink, to say the least!  Join our forum, let's chat!